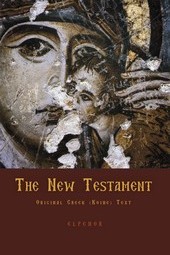 Two mosaic icons survive in Xenophontos Monastery, one of St George, the patron of the old katholikon and the monastery itself, and the other of St Demetrios (no. 2.3), to whom the chapel attached to the south-east side of the katholikon is consecrated.

St George is depicted standing, turning slightly towards the viewer's right, his head and hands lifted in supplication towards Christ, who is portrayed from the waist up in the upper right corner, making a gesture of blessing. The saint is dressed not as a warrior, but as a courtier, in a full-length dark blue tunic tied at the waist and decorated with a gold reticulated pattern enclosing gold stars. Over the tunic he wears a red chlamys ornamented with gold and fastened on the right shoulder. On his chest is a rectangular patch of fabric, the tablion, which represents his military rank. On either side of the saint's head, an inscription on the gold ground of the icon reads: 'St George'.

The tesserae at the bottom of the icon have fallen off and the ruined section has been painted in. On the face too, and at various points on the gold ground, missing tesserae have been replaced with wax and their shape rendered on it in colour.

In his sumptuous, colourful attire, reminiscent of early Christian mosaics, this figure of St George is distinguished by its hieratical stance and its flat drapery, which hangs with monumental weight in large stiff folds. Despite the damage, from a technical point of view, the saint's face, with its curly hair, arched eyebrows, refined features, and sober expression, reflects the aesthetic of the late Comnenian period (Lazarev 1983, fig. 18).

Xyngopoulos opined that this mosaic icon of St George and its companion icon of St Demetrios were not originally portable icons, but embedded in the spandrels of the arches over the east columns supporting the dome of the old katholikon, in the sites now occupied by frescoes of the same saints done in 1544 (Xyngopoulos 1981, pp. 91-2). This writer, however, believes that they always were portable, probably hung as devotional icons on the fronts of the pilasters at either end of the original marble templon in the old katholikon (St George on the left pilaster, St Demetrios on the right). Alternatively, they may have been placed on icon-stands in the church, in the same positions as Komnenos saw them when he visited Mount Athos in 1698 and worshipped in the katholikon of Xenophontos (Komnenos 1984, pp. 95-6). These positions of honour in the katholikon are due to the fact that St George is the patron of the monastery and of the old katholikon, next to which a chapel dedicated to St Demetrios was built in the fourteenth century.