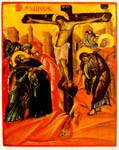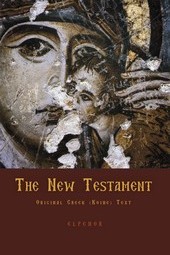 In the centre of the composition, rendered in perspective, rises the cross with Christ upon it. On his halo are the Greek letters for 'I am the Being'; on the arms of the cross the abbreviation of the name of Christ; and on the tabula IBIΘT. His side, hands, and feet are bleeding, the blood from his feet flowing towards the skull of Adam. On the left is a group of women supporting the swooning Virgin, whose pose is similar to that in the Crucifixion in Vatopedi Monastery (Millet 1927, pl. 83. 2) and in an icon of the second half of the fourteenth century from the Monastery of St Paul, which is displayed in the exhibition (no. 2.30). On the right stands John, bowed with grief, and behind him the centurion making the familiar gesture indicative of his confession of faith, the soldier with the sponge, and two other figures.

The varying levels of the buildings, which complete the composition, bring to mind the icon of the Crucifixion from Patmos (Chatzidakis 1985, pl. 6), though their form is markedly different here. In the upper part of the icon, on a gold ground, are the cosmic symbols of the sun and the moon, and to the left, in red lettering, the inscription: 'The Crucifixion'.

The soft modelling of the faces, with its bright, plastic flesh tones softened with green touches, the rendering of the clothing with its highlighted surfaces, the iconographical details, and the facial types all hark back to fourteenth-century works. However, the differences in the rendering of the architectural and the natural landscape, a certain insipidness in the faces, the decorative tendency manifested by the gold outlines of the clothes, and the different overall ethos place the work in the first half of the eighteenth century in an artistic climate, particularly widespread on Mount Athos, that revived Palaeologan models, notably those of the so-called Macedonian School (Chatzidakis 1975 (2), pp. 246ff. Tsigaridas 1994 (1), pp. 315ff.).

This icon, like a number of others in the same style in Iviron Monastery, comes from the iconostasis of a kellion and provides an interesting illustration of these trends in eighteenth-century painting.