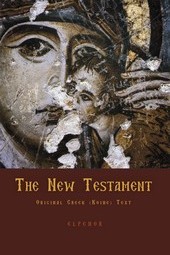 The saint is portrayed from the waist up, wearing a ruddy phenolion and a greyish-white omophorion decorated with crosses. He is giving a blessing with one hand and holding in the other a closed Gospel ornamented with dots. The outline of his halo is decorated in a like manner.

The field of the bottom half of the icon is greenish, while in the upper half it is gold and inscribed with the saint's name: 'St Modestos'.

The integral frame, decorated with gold vegetal motifs on a dark green ground, attests an Athonite technique (Chatzidakis 1985, no. 163).

On the back of the icon is a cross with the letters representing the phrase 'Jesus Christ Conquers', and below it the inscription: 'ΟΠΙΟΣ ΤΗΝ ΑΠΟΞΕΝΟΣΗ. ΝΑ ΕΧΗ./ΤΗΝ ΚΑΤΑΡΑ ΤΗΣ ΑΓΙΑΣ ΜΕΤΑΜΟΡΦΟ/ΣΕΟΣ. 1751=μ\ν. Μάρτιος. /+ΔΙΑ ΕΞΟΔΟΥ. ΒΑΡΝΑΒΑ ΠΡΟΗΓΟΥ/ΜΕΝΟΥ' (Whosoever shall alienate it [i.e. remove the icon] shall have the curse of the Transfiguration. 1751, month of March. Commissioned by Barnabas, prehegumen).

The robust figure of the saint brings to mind Macedonian works of the fourteenth century, models of which were often used by eighteenth-century painters on Mount Athos (Chatzidakis 1975 (2), pp. 246ff.). However, the soft, sweet modelling and the stylised wrinkles put a certain distance between this figure and similar works of the early eighteenth century, thus confirming its dating to the middle of the century, when the trends which prevailed in a number of nineteenth-century works were beginning to appear.