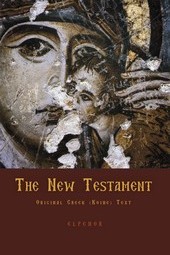 In a softly rendered, but stylised landscape of hills, trees, and plants, the enclosure of the Monastery of St Seraphim is depicted with the katholikon in the centre. A number of other buildings scattered about the composition are identified by inscriptions in red lettering, of which only those in the upper left ('The Mill') and the upper centre ('Calvary') are legible.

St Seraphim is twice portrayed with the Virgin in the lower part of the composition. In the foreground, he offers her a model of a church, and between the two figures is the inscription: 'Here the Virgin appeared to the saint, whereupon he built the monastery.' To the right, in the middle ground, they appear again, separated by the inscription: 'Here the Virgin commands the saint to build the monastery.'

The dedicatory inscription is in the middle of the right-hand side of the icon: '+ ΤΟ ΠΑΡΟΝ ΜΟΝΑΣΤΗΡΙΟΝ ΤΟΥ ΑΓΙΟΥ ΣΕΡΑΦΗΜ/ΕΣΤΟΡΙΣΤΙ ΕΙΣ ΤΟ ΑΓΙΟΝ ΟΡΟΣ ΔΙΑ ΣΗΝΔΡΟΜΗΣ/ Κ(ΑΙ) ΕΞΟΔΟΥ ΤΟΥ ΟΣΙΟΤΑΤΟΥ ΕΝ ΙΕΡΟΜΟΝΑΧΕΙΣ/ΚΥΡΙΟΥ ΠΑΠΑ Κ(ΑΙ) ΓΕΝΑΔΙΟΥ ΤΟΥ ΕΞ Αθηνόν' (This Monastery of St Seraphim was painted on Mount Athos with the contribution and at the expense of the most holy of monks, the priest, Master Genadios), which confirms the existence of Athonite painters' ateliers in the post-Byzantine period (Chatzidakis 1975 (2), pp. 247ff.).

This sort of attempt at an iconographical narration of an event other than an established religious subject in a naively and conventionally organised space is also seen in older folk-style works (Patrinelis - Karakatsani - Theochari 1974, p. 61). However, it became more common in the eighteenth century in works of folk art, probably under the influence of the developing art form of engraving. The influence of engravings is apparent in the rendering of the landscape and the topography in the composition of this icon, which may be dated to the middle of the eighteenth century (Chatzidakis 1975 (2), pp. 246-7. Pazaras 1995 (2), pp. 54-5).