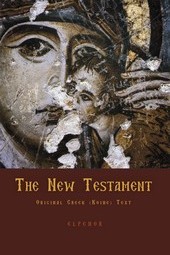 The saint is depicted in the traditional way (Papachrysanthou 1992, p. 189 n. 155) as a full-length, standing, beardless figure, dressed in a monk's habit and holding a cross in one hand and in the other a scroll, bearing a text.

The saint gazes heavenward, where the Virgin appears, on a smaller scale, amid clouds and golden rays, with Christ in her arms and little western-style angels fluttering about her feet and to the left of her. On the saint's left is the inscription 'St Paul of Xeropotamou and founder of the two monasteries'.

St Paul is credited with founding Xeropotamou and St Paul's Monastery (Papachrysanthou 1992, pp. 182ff.), both of which are represented, quite accurately, in the interesting landscape of this composition. Xeropotamou is on the right and St Paul's on the left, each identified by name, with the massive bulk of Mount Athos behind St Paul's. Between the two foundations are some smaller buildings, and in the lower right-hand corner is the boathouse, with the sea and some caοques. Trees and soft rolling hills provide a sense of depth. A similar approach to the treatment of the landscape, chiefly as regards the reproduction of the monastery from an engraving, is seen in an icon of St Eudokimos in Vatopedi Monastery, painted in 1842 (Tsigaridas 1996 (1), A(, fig. 78, B(, pp. 414-15).

The handling of colour is particularly interesting here: shades of olive-green are used for the landscape, into which the grey-blue buildings, with touches of red and yellow, subtly blend. The sky above, in the red hues of the setting sun, followed by the dark blue of night, contrasts with the bright golden corner where the Virgin appears, dressed in red and gold.

Below, on the painted gold frame, is the white lettering of the one-line dedicatory inscription: ' Mνήσθητι Kύριε των δούλων σου Παύλου Iερομονάχου κ(αί) των γονέων αυτού Iωάννου κ(αί) Mα[ρίας] αωο' (1870) χείρ B. Iερομ(ονάχου)' (Remember, Lord, thy servants hieromonk Pavlos and his parents Ioannis and Maria, 1870, by the hand of B., hieromonk).

Western elements and a western style of painting, coupled with the influence of engravings, compose a good representative work of the nineteenth century. Its thematic repertory and dedicatory inscription attest an Athonite painter, whose humility has kept his full name from us.