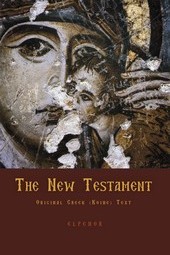 This exceptionally large Russian menologion with its profusion of figures contains the twelve months in one composition, and also a central group covering the Dodekaorton and other scenes, the four Evangelists and seventy different types of the Virgin. Tradition has it that this icon was presented by the Tsar Nicholas II to monks from Simonopetra who had travelled to Russia for 'Alms-begging'.

The Evangelists are portrayed at the four corners of the icon, and the half-length types of the Virgin create a continuous border running round the central theme, the menologion. The months run from January to December, starting from the top left corner. The first five months of the year cover the upper part of the icon, and the last five months the lower part, while a narrower band in the middle contains June and July, and twenty-three scenes from the Dodekaorton set between them.

Russian monthly menologia in the form of portable icons made their appearance on Mount Athos in the seventeenth century. A full set of the twelve months is preserved at the Monastery of Vatopedi and five individual months at the Monastery of St Paul. Their distinctive features are the arrangement in bands, which was also a feature of Byzantine menologia (Vocotopoulos 1995, nos. 16-17), and the menologion scenes between the full-length saints.

Due to the great number of figures the work has something of the character of a miniature, and it is clear that at least two painters have worked on it and all the subjects are distinct, complete, and fully detailed (L' immagine dello Spirito 1996, no. 32).