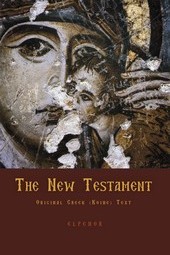 Gregory Palamas was Archbishop of Thessaloniki from 1347 to 1359 and was active in the broader area of Macedonia. Almost immediately after his death and his canonisation in 1368, he entered the iconography of the Orthodox Church, and a number of representations of him, painted in the late Byzantine and post-Byzantine periods, have been located in northern Greece (Tsigaridas 1986 (1), pp. 263ff. Tsigaridas 1996 (3), pp. 280ff., fig. 74).

In this icon he is represented frontally from the waist up, with short hair and a long bifurcated beard, in accordance with one of the two iconographic types that were established for him in the second half of the fourteenth century (Tsigaridas 1986 (1), pp. 271ff.). He wears episcopal vestments - omophorion and phelonion - decorated with crosses, in the angles of which are abbreviations signifying 'Jesus Christ Conquers'. His right hand is lifted in blessing, his left grasps a closed, richly bound Gospel. His name is written in red lettering on the gold ground: 'St Gregory Palamas'. The gold ground has been retouched and the second part of his name rewritten.

The figure of the saint is outlined in black and the exposed areas are modelled with soft brown underpainting and small amounts of pinkish-ochre for the flesh, while the volumes are emphasised with sparse white highlights.

The icon is in the tradition of the Cretan School and of the major ensembles of sixteenth-century frescoes on Mount Athos. Stylistic features, however, such as the flatness of volumes and the lack of inner power, relate it more closely with works of the second half of the sixteenth century (Baltoyanni 1985, nos. 37, 39-40), which seems a reasonable dating for this particular icon.