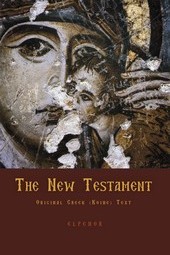 The two saints are portrayed frontal and standing against a gold background, the ground on which they stand being a bluish green. Their names are written in red Cyrillic lettering, and the inscriptions on the Baptist's scroll and St Nicholas' book are also in Slavonic.

St John on the left, wearing a dark bluish-green goatskin and a brown mantle, is represented in a type known from the Palaeologan period which repeatedly occurs in the works of Cretan painters (Chatzidakis 1985, nos. 18, 35), the closest parallel being the figure of the Baptist in the border of an icon by Andreas Ritzos in Tokyo (Chatzidakis 1985, pl. 201).

St Nicholas, in a crimson phelonion and bluish-green sticharion, extends both arms, making a gesture of blessing with his right hand and holding an open Gospel in his left. A similar iconography found in both early and later works (Garidis 1989, figs. 93, 120. Chatzidakis 1985, no. 163), is also employed in an icon of St Nicholas of 1605 from Sykia, Chalkidiki, which is believed to be an Athonite work (Byzantine and Post-Byzantine Art 1986, no. 150).

This icon with the conventionalised figures of the two saints and the linear, dry modelling of faces and clothing can be dated to the first quarter of the seventeenth century. It must, however, be ascribed to a painter who copied Cretan models in his own folk style.