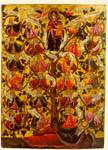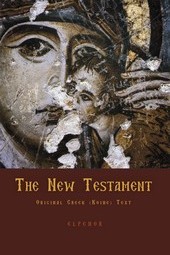 This is an exceptionally fine work depicting the Tree of Jesse (see no. 3.4), that is the genealogical tree of Christ and hence also of the Virgin. Jesse the Righteous is shown reclining in the centre at the base of the icon, and from his body springs a trunk with branches corresponding to the various patriarchs. Apart from the two principal figures in the centre of the composition Jesse at the bottom and the Virgin holding the Child at the top twenty-four figures of prophets are portrayed in a vertical arrangement of four columns. Two hovering angels crown the Virgin, who in contrast with the other figures wears, like Christ, a silver halo. An interesting feature of the icon is the fluttering scrolls held by the prophets and angels, with prophecies pertaining to the Virgin. The names of the twelve prophets on the left are included in their scrolls, while those of the twelve on the right are written in red beside each figure. The painter has distinguished the prophet-kings by their royal robes, crown and sceptre, and ordinary prophets by a simple mitre on the head.

This presentation of the subject goes back to Byzantine times (Taylor 1980-1, p. 128), and although it is a multi-figural composition, which needs a great deal of space to be worked out properly, and requires considerable skill in execution, it was nevertheless commonly included in the iconographic scheme of major monuments during the Turkish period (refectory of the Lavra, katholikon of Docheiariou and others). In the case of the Protaton icon the number of figures is certainly limited compared to that in the monumental works, as can be seen from the surviving examples.

The technique, with the pink paint of the faces over limited dark-coloured modelling, the soft drapery of the robes and the fluidity of movement in the figures, together with the fine detail in the portraits and the decoration, comprises an exceptional work of the early seventeenth century, probably by the painters working at that time on Mount Athos.