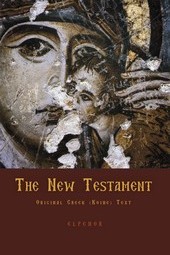 One of the most important surviving early Palaeologan icons on Mount Athos is this icon of St Demetrios, which was painted by the artist who executed an icon of St George of the same size. St Demetrios is portrayed from the waist up as a warrior saint. His slightly contorted body is broad with sloping shoulders, and seems to be constricted by the narrow confines of the icon. With its warm, softly blended colour tones and tranquil, slightly melancholy gaze directed at the viewer, the saint's face presents the expressively lifelike portrait of a young warrior, a martyr of the Church, for whose portrayal the artist has undoubtedly borrowed from old sources that go back to the early Christian period.

This iconic type of St Demetrios, with the noble, contemplative face, profound spirituality, and lofty ethos, reflects the same artistic style and expressive quality as the wall paintings in the Protaton (ca. 1290) in Karyes on Mount Athos. These are traditionally attributed to the eminent Thessalonian painter 'Master Manuel Panselinos', one of the greatest artists of all time. A comparison between this icon and the wall painting of St Demetrios in the Protaton confirms their connection (Tsigaridas 1996 (2), figs. 5, 6).

As regards technique, the rendering of the face, with the wide area of slightly pinkish warm ochre, the green shading on the brow, the cheeks, and the neck lightly suffusing the flesh like a diaphanous web, and the white linear highlights that discreetly illuminate the face, also closely reflects the techniques used in the Protaton.

Despite the slight variations due to the difference in genre, the typological, technical, and stylistic affinity which this icon of St Demetrios shares with the wall paintings in the Protaton strongly suggests that it is a product of the same artistic environment, was painted by Panselinos's workshop, and may be dated to around 1300 or the first decade of the fourteenth century.