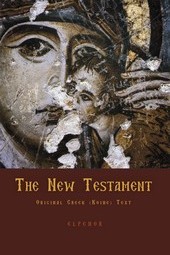 The saint is depicted from the waist up, his right hand raised in blessing, a richly bound Gospel in his left.

He wears a red phelonion decorated with gold flora motifs and an omophorion adorned with corsses and flowers. The saint is flanked, on a smaller scale, by Christ and the Virgin, sitting on clouds and offering him the episcopal insignia (see the icon of St Nicholas from the Monastery of St Paul, no. 2.93). Their haloes have a metal revetment and above them are written the abbreviations: 'Jesus Christ' and 'Mother of God'. The saint's name is inscribed in gold and red medallions on a dark blue ground: 'St Nicholas'.

In a single line along the bottom of the icon, there is a dedicatory inscription and the date: 'ΕΤΟΣ 1799 ΜΗΝ ΑΠΡΙΛΙΟΥ 27 ΔΕΗΣΙΣ ΤΩΝ ΔΟΥΛΩΝ ΤΟΥ ΘΕΟΥ ΧΡΙΣΤΟ-ΦΟΡΟΥ Κ(ΑΙ) ΦΙΛΟΘΕΟΥ ΤΩΝ ΜΟΝΑΧΩΝ Κ(ΑΙ) ΠΑΡΘΕΝΙΟΥ ΙΕΡΟΜΟΝΑΧΟΥ' (Year 1799, month of April, 27th. Supplication of the servants of the Lord Christophoros and Philotheos the monks and Parthenions, hieromonk).

Although the saint is depicted according the the established iconography, the rendering is far removed from austere Byzantine art. Insipid, expressionless faces and a strong decorative tendency point to the trends that were to prevail in the religious painting of the nineteenth century.