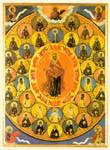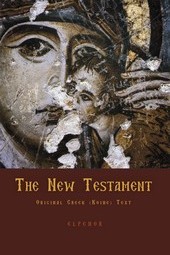 This icon, impressive both in size and iconogrpahic treatment, must have been painted on Mount Athos in the second half of the eighteenth century. The centre is occupied by the figure of the Virgin within a glory, and around her in a similar oval arrangement are two circuits of the most important figures of Athonite monasticism. Each figure is shown half-length in a medallion, and an attempt has been made to render personal facial characteristics. Four prophets (Daniel, Zachariah, Isaiah and David), holding open scrolls, occupy the four corners of the icon, while at top centre Christ appears among clouds to give His blessing.

The Athonite Fathers are depicted in such a way as to present the work and role played by each. Thus, founders hold models of churches, and those who had been bishops and patriarchs are dressed in the vestments appropriate to their rank. Below Christ is St Peter the Athonite, and next to him in the following order are Sts Maximos of Kausokalyvia, Damaskinos (?) of Kausokalyvia, Gregory of Gregoriou, Kallistos, Patriarch of Constantinople, Niphon of Dionysiou, Athanasios of Esphigmenou, Sabbas of Chelandari, Theodosios of Philotheou, Simon of Simonopetra, an illegible saint and St Niphon of Kausokalyvia. The outer circuit portrays: to the right of Christ, St Gregory of Byzantium, followed by Sts Pachomios, Akakios of Kausokalyvia, Theophanis of Docheiariou, George of Iviron, Athanasios the Athonite, Gennadios of Vatopedi, Symeon of Chelandari, Paul of Xeropotamou, Neophytos of Docheiariou, Dionysios of Dionysiou, Nikodemos of Kausokalyvia, Romanos of Kausokalyvia and Nektarios of Karyes.

Iconographically, this composition derives from the Tree of Jesse (see 3.4, 2.121) as can be seen from the flowers and foliage surrounding each medallion. Similar compositions exist as wood-carvings, for example the seventeenth-century carved wooden pectoral in the Benaki Museum (no.1411, Tree of Jesse), and also as paintings, as in the 1668 icon showing the generations of the Fathers of the Russian Church with the Virgin of Vladimir in the middle (Smirnova 1989, pl. 199 and 200). The idea of bringing all the Athonite Fathers together in one icon belongs to St Nikodemos the Athonite, who at the end of the eighteenth century noted in the Service for the Athonite Fathers, which he composed himself: `It seemed right that.....[the Athonite Fathers] should be celebrated in one feast and recorded in one icon as brothers in spirit and of one form and one will.....' (Synaxaristes p. 407).