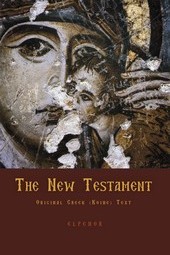 St John of Damascus is portrayed from the waist up, turning slightly towards his right. In his left hand he holds an open, inscribed scroll, and with his right he makes a gesture of blessing. He wears a dark green monastic cloak, beneath which the short stole of the megaloschemos is just discernible. The turban on his head also covers his shoulders and denotes his Arab origin. His head is surrounded by a wide gold halo, while the rest of the figure is set against a pale green ground, on which is the inscription: 'St John of Damascus'.

St John of Damascus (7th-8th c.) came from an Arab Christian family. Having briefly served in the administration of the Arabian state, in 717 he became a monk in the Lavra of St Sabbas in Palestine, where he spent the rest of his life in spiritual ascesis, study, and writing. He gained particular renown for his theological work refuting the Iconoclasts. His entire œuvre, which came to form the basis of Orthodox Christianity, assures him eternal glory.

The saint's iconographical type, in monastic garb and a turban, was introduced in the twelfth century and has remained unchanged ever since (Babic 1987, pp. 206-10, figs. 5-8).

His physiognomical type is distinguished by a long narrow face, long, slender nose, deeply shadowed eyes, the painterly accentuation of the volumes with emphasised cheekbones, and fine, limited, vivid highlights shimmering on a face darkened by the desert sun. With its stern gaze, intensified by spiritual ascesis, this face may also be seen in late thirteenth- and early fourteenth-century monuments (Millet - Frolow 1962, pl. 117.4. Constantinides 1992, II, figs. 94, 102, 218b. Todic 1993, fig. 31) with artistic connections with Thessaloniki.