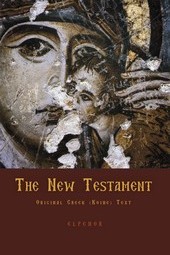 This wooden cross, painted with a representation of the Crucifixion and, above, a symbolic depiction of the Last Judgement, was originally positioned either behind the altar or on top of the iconostasis in the katholikon. The central composition is a painted crucifix, on which Christ has already closed his eyes and sunk his head onto his right shoulder. The body, naked but for a short loincloth, is rendered in harmonious contrapposto characterised by a jutting pelvis. On either side of the arms of the painted cross is a miniature, of the Virgin on the left and John on the right, both from the knees up.

The Virgin is a slender figure, swathed in her mantle, with only her left hand and her face showing. Her pose and the movement of the hand and the head denote a figure wrapt in grief. John too turns towards the crucified Christ. His limp pose and the movement of his hand and head reinforce the impression of a figure exhausted by mental anguish.

The Christ-type with marked contrapposto is characteristic chiefly of Palaeologan works. In this particular case, the jutting pelvis and the extremely stylised anatomical details link the icon to the late phase of Palaeologan art (Vocotopoulos 1995, nos. 130, 140). The tall, slender figure of the Virgin, with its tight, closed form, is very similar to that of the Virgin in an icon of the Crucifixion in the Byzantine Museum in Athens (Vocotopoulos 1995, no. 82), which is dated to the mid-fourteenth century. St John in the Pantokrator icon also shows typological similarities with the figure of the same saint in the Athens icon, and even more so with the figure of an apostle in the representation of the Dormition at Sopocani in Serbia (1260-70), one of the most important monuments produced by the art of Constantinople (Djuric 1963, pl. XXVII). The figure of John attests a return to thirteenth-century models, which is a feature of the art of the second half of the fourteenth century.

From a stylistic point of view, with the soft, painterly modelling of their clothes and faces and their delicately melancholy expressions, the figures of the Virgin and John may be linked with works of the second half of the fourteenth century, such as the double-sided icon (1371) in the Archaeological Museum in Sofia (Weitzmann et al. 1966, pl. 103, 105. Vocotopoulos 1995, nos. 125-6). The facial type of the Christ figure also harks back to the same period, being iconically and stylistically reminiscent of the icon of the Man of Sorrows in the diptych in the Monastery of the Transfiguration at Meteora (Vocotopoulos 1995, nos. 123-4), which is dated to the second half of the fourteenth century. Therefore, the writer believes that the Pantokrator cross also dates to this period, and more specifically to 1360-80.