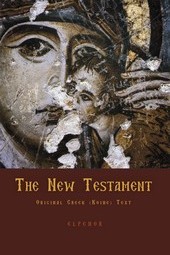 On the main face of this double-sided icon, John the Baptist is portrayed from the waist up, clad in a hair garment that leaves his right shoulder and part of his chest bare. He makes a gesture of blessing with his right hand in front of his chest. In his left hand he holds a staff topped by a cross, between the arms of which is a medallion bearing a representation of Christ Pantokrator. In the corresponding position in the left corner, on the same scale as Christ, is a supplicatory angel in a medallion.

This icon of John the Baptist has iconographical parallels in Palaeologan icons and wall paintings (Vocotopoulos 1995, p. 2, figs. 1, 3). Typologically, the saint's tall, slender form, with its long stylised coiffure and longish, fine-featured face full of human sadness for the destiny of Christ (Grabar 1969, pp. 113-20), places the icon among the classicistic trends of the second half of the fourteenth century (Chatzidakis 1974 (1), pp. 175-6).

From an artistic point of view, the brown that suffuses the whole image and the limited highlights in the form of white striations link the icon with works - wall paintings and icons - of the first half and third quarter of the fourteenth century (Vocotopoulos 1995, pp. 1-3, figs. 1-3). Finally, the noble figure of the Baptist, with its slender body, monumental pose, and refined face, places the icon among the works of the capital, as do the high standard of the execution and the whole ethos of the figure.

On the rear of the icon, John the Baptist is depicted on the left, facing right and holding in his left hand a staff topped with a cross. He wears a bluish goatskin which leaves part of his body bare. His severed head lies on a tray at his feet in the lower centre of the composition. The Virgin on the right turns slightly and inclines her head towards the Baptist. In her left arm she holds the seated Christ Child, who has a scroll in his left hand and makes a gesture of blessing with his right.

This iconographical type of the Virgin, which is known from late thirteenth-century works (Mavropoulou-Tsioumi 1975, p. 162), is also seen in works of the second half of the fourteenth century (Djuric 1961, pl. LXV). The facial type, the technical execution of the figures (Xyngopoulos 1956, pp. 25-33), the slender physiques, and the Virgin's small face in relation to her body also point to the same period. By the same token, the grace and elegance of the poses, the figures' harmoniously reciprocal movements, and the elevated ethos of the faces place this icon among the representative works produced in Constantinople in this period.