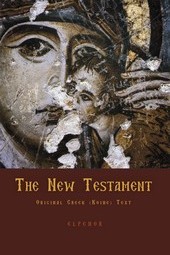 St Demetrios, dressed as a courtier, is depicted standing and turning slightly towards the viewer's left. His pose is one of supplication towards Christ, who is portrayed from the waist up in the upper left corner, making a gesture of blessing. The saint wears a full-length brick-red tunic covered with gold striation, and a long blue chlamys decorated with gold geometric ornaments and fastened on the right shoulder. The gold ground of the mosaic is surrounded by a red mosaic border and bears the inscription: 'St Demetrios'. Large areas of the gold ground have come away and the gaps have been filled in with wax, on which lines have been incised in an imitation of the missing tesserae.

This icon of St Demetrios is distinguished by the saint's stiff, hieratical pose, his slim, almost fleshless body, and the flat, stiff drapery, the rendering of which is characterised by the use of abundant gold tesserae, reflecting the luxurious nature of the icon's manufacture.

From a technical point of view, the saint's triangular face is rendered with limited olive-green underpainting, while on the wheaten flesh, the cheekbones defined with red patches, broad white localised highlights illuminate the brow, the ridge of the nose, and the area around the eyes. This facial type, with the specific technique that brings out the volume of the face, is also seen in frescoes in the Churches of Hosios David in Thessaloniki (1160-70) and St Demetrios in Vladimir (1198) in Russia (Tsigaridas 1986, p. 108, figs. 23, 84β). It therefore seems reasonable to date the icon to the second half of the twelfth century and to link it with workshops active in Constantinople in this period.

The unbending, hieratical pose of the saint, who is not animated by the dynamic style of the late Comnenian painting of the end of the twelfth century, shows that this icon and that of St George (no. 2.1) must have been devotional icons placed on the fronts of the bare of painting pilasters of the marble templon in the old katholikon (Demus 1991, pp. 26-8), or else on icon-stands in the nave (Komnenos 1984, pp. 95-6).