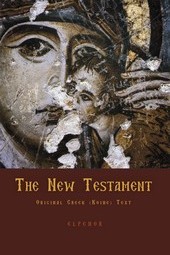 St John the Baptist is depicted from the waist up, turning three-quarters towards the right in a gesture of supplication. His broad body is covered by a greenish-blue tunic and a dull yellow himation. His long, narrow face, with its impeccably drawn almond-shaped eyes and aquiline nose, is supported by a short neck which widens at the shoulders. The bottom of the icon has been cut off to fit a new site, with the result that, although it retains its original width, the height has been reduced from about 138 cm to 119 cm.

From a technical point of view, this icon of John the Baptist is characterised by an elegant precision in the rendering of the features, a delicacy in the modelling of the face, and a softness in the highlighting that imparts a pensive serenity to the figure. The hair forms broad flame-shaped locks, and the curly beard is very realistically rendered. The garments, finally, have wide flat folds, which emphasise the breadth of the body.

Some minor differences apart, the Vatopedi Baptist presents close physiognomical and stylistic similarities to the Great Deesis icon of St John the Baptist in Chelandari Monastery (Bogdanovic - Djuric - Medakovic 1978, fig. 86). The similarities include the flatness of the body, the delicate technique, the discreet facial highlighting, and the expressive quality. So, since it is generally agreed that the Chelandari icon dates to around 1360, it seems reasonable to put the Vatopedi icon somewhere between 1350 and 1360.

The close typological, physiognomical, and stylistic similarities shared by the Vatopedi and Chelandari Great Deesis icons suggest that, despite the few differences, they are outstanding products of the same workshop, made in the third quarter of the fourteenth century, the former probably between 1350 and 1360. It has also been shown (Tsigaridas 1996 (2), pp. 359-64) that the Vatopedi icons are the remnants of the Great Deesis that adorned the iconostasis in the katholikon at that period.