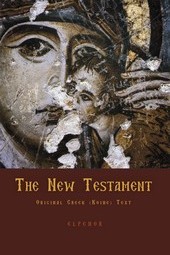 St Luke is depicted from the waist up turning three-quarters to his right. A richly bound, closed Gospel rests on his left arm, and his right hand is raised in blessing. He wears a bluish tunic with a clavus and an aubergine himation. His broad, bulky, almost athletic body is topped by a robust neck and a fleshy face. There is an inscription on the gold ground of the icon: 'St Luke'.

With its rugged features, arched brows, and hooked nose, the face stands out for its mature flesh, rendered in a painterly manner, and the highlights that shimmer on the face and emphasise the joints of the shapely fingers.

The drapery of the tunic forms wide, deep, straight folds, while the deep folds and highlighted areas of the himation break the surface up into irregular restless plastic shapes.

The technique produces a plastic rendering of the flesh of the face and reveals the shape of the body beneath the clothing. At the same time, Luke's terrestrial, fleshy stature is distinguished by the serene, peaceful expression on the face, which is suffused with an unearthly light.

This athletic figure, which is distinguished by its exceptionally spiritual air, attests direct artistic links with the icons of the Vatopedi Great Deesis. They may all have been produced by the same workshop in the third quarter of the fourteenth century (Tsigaridas 1996 (1), pp. 382-6, figs. 323-6).