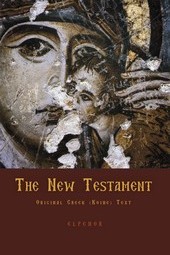 On the main face of this double-sided icon, which has been reduced down both sides, are the founder of Dionysiou Monastery, Alexios III Comnenos (1350-90), and John the Baptist, to whom the monastery is consecrated. Alexios, Emperor of Trebizond, is portrayed on the left, standing in a frontal pose, dressed in royal attire, and wearing a crown with pearl-studded pendants. In his right hand he holds a sceptre with a cross, in his left a model of a domed church. St John the Baptist is shown full-length on the right, standing on rocky ground. He wears a bluish sheepskin with an olive-green himation on top. In his left hand he holds a closed scroll and a cross on a staff, and in his right a model of the church. Above the model is the seated Christ in glory, making a gesture of blessing with his right hand and holding a closed Gospel in his left.

The Emperor is accompanied by the following inscription, in red capitals on a gold ground: ''ΑΛΕΞΙΟΣ ΕΝ Χ(ΡΙΣΤ)Ω ΤΩ Θ(Ε)Ω ΠΙΣΤΟΣ ΒΑΣΙΛΕ[Υ]Σ / ΚΑΙ ΑΥΤΟΚΡΑΤΩΡ ΠΑΣΗΣ ΑΝΑΤΟΛ[ΗΣ] [Ι]ΒΗΡ[Ω]Ν / ΚΑΙ ΠΕΡΑΤΕΙΑΣ Ο ΜΕΓΑΣ ΚΟΜΝΗΝΟΣ / Κ(ΑΙ) ΚΤΗΤΩΡ ΤΗΣ ΜΟΝΗΣ ΤΟΥ ΤΙ/ΜΙΟΥ ΠΡΟΔΡΟΜΟΥ'' (Alexios in Christ our God, faithful King and Emperor of all the East, Georgia, and all lands beyond, the great Comnene and founder of the Monastery of the Holy Prodrome).

The Emperor is a close copy of the portrait of Alexios Comnenos which accompanies the chrysobull he issued in 1374-5 concerning the foundation and endowment of the monastery (Doelger - Weigand 1943, p. 97. Actes de Dionysiou 1968, pp. 50-61. Kadas 1979, fig. 124.). The chrysobull is still treasured in the monastery as part of its precious heritage. The close resemblance between the icon and the chrysobull means either that the same artist painted both the miniature and the icon or that the artist who painted the icon copied the portrait of Alexios on the chrysobull, where he is depicted with his consort Theodora.

On the reverse of the icon, on an orange ground that imitates gold, are four saints from Trebizond: Canidios, Eugenios, Valerian, and Acylas. The full-length saints stand in frontal poses, wearing sleeved tunics and cloaks, each holding the cross of his martyrdom in his left hand. St Eugenios is discreetly distinguished by the fact that his cross is on a staff and his halo is gold, rather than dark blue. He is also accompanied by an inscription attesting his place of origin: 'The Trapezuntine'.

The depiction of Emperor Alexios Comnenos as founder of the monastery on the main face of the icon just as he is portrayed on the chrysoboulla concerning the founding of the monastery (1374-5), together with the depiction of the Trapezuntine saints on the reverse, suggests that both icon and chrysobull may have been painted by the same workshop and that the icon was therefore given to the monastery by the Emperor.