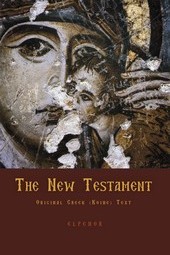 The Virgin is depicted from the waist up in a strictly frontal pose, holding Christ with her left arm, her right hand lifted before her breast. She wears a dark blue mantle with gold edging and gold stellar ornaments, which symbolise the Trinity and allude to her own role in the Incarnation.

The relatively large Christ turns slightly to one side, making a gesture of blessing with his right hand and holding a closed scroll in his left. He wears a brown himation with abundant gold striations. The lower part of his body is ruined, as is the left side of the Virgin's face. On the gold ground of the icon is the abbreviated inscription: 'Mother of God'.

Iconographically, the Virgin represents the austere type of the Hodegetria, the prototype of which was the icon of the Virgin in Hodegon Monastery in Constantinople. With regard to iconography and physiognomy, this mosaic icon shows similarities with the mosaic icon of the Virgin Hodegetria in the Patriarchate of Constantinople, a work which is generally agreed to date to about 1100 (Demus 1991, pp. 39-42, pl. VII).

From a technical point of view, with their grave expression, sharply delineated brown shadows, pink flesh warmed with patches of red, and the linear rendering of the features, the faces of the Virgin and Christ trace their origin to the mosaic art of the eleventh century. More specifically, the technique of the sharp chiaroscuro with no tonal gradations is also seen in the mosaics in Nea Moni on Chios (mid-11th c.) and in the Annunciation in the nave of the katholikon of Vatopedi Monastery (Tsigaridas 1996 (3), pp. 222ff., figs. 181-2), and continued to be used throughout the twelfth century (Demus 1991, pp. 19-21, pl. VIII).

The icon has been variously dated to the eleventh to fourteenth century. It is believed to have been placed on the templon or, more probably, on an icon-stand in the katholikon and to be the work of an atelier either from Thessaloniki or Constantinople (Djuric 1966, pp. 17-20. Weitzmann et al. 1982, pp. 138, 146-7; opinion shared by Babic) or even from the west (Weitzmann et al. 1966, p. LXI, fig. 166; opinion shared by Radojcic). More specifically, Djuric believes that the icon dates to the end of the twelfth century and that it was commissioned and donated, about 1198, by the founders of Chelandari Monastery, St Sabbas and Symeon Nemanja, to be used as the monastery's household icon. Indeed, tradition has it that, just before he died in 1200, Symeon Nemanja commended his soul to God before this very icon (Djuric 1966, pp. 17-20. Bogdanovic - Djuric - Medakovic 1978, pp. 58-60, fig. 37). Demus, however, dates it to the first half of the twelfth century and believes that it may have come from the monastery that previously stood on the site of Chelandari (Demus 1991, pp. 39-42).