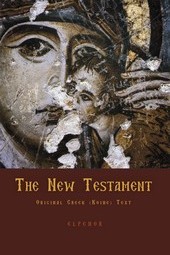 In this icon of the Synaxis of the Archangels, the two 'ministers of the Lord', Michael on the left and Gabriel on the right, are depicted with strict symmetry in a full-length frontal pose holding between them a medallion containing a bust of Christ Pantokrator.

According to Grabar (Grabar 1957, p. 252), the iconography of the Synaxis of the Archangels must have been established sometime in the ninth century, immediately after the Iconoclast controversy, when Theodore of Studios wrote his discourse on the Synaxis of the Heavenly Powers.

The earlier examples of the Synaxis of the Archangels, which date to the eleventh century, do not include the figure of Christ (Kalopissi-Verti 1975, pp. 188-95. Gabelic 1977, pp. 58-9). Later on, in the thirteenth century, Christ Pantokrator or Christ Emmanuel was included in a medallion, the former rather less frequently than the latter.

From an artistic point of view, the Archangels' facial types, with their idealised beauty, the delicacy of the painting, the skilful highlighting technique using a dense network of fine white lines, and the distinctive stylised hair, refer to works of the Cretan school of the second half of the fifteenth century, such as St Fanourios painted by Angelos on Patmos, St George on the bema door on Tinos and the Archangel Michael in the parish of Spilia in the diocese of Kissamos and Selinos, Crete, both ascribed to the Cretan painter Andreas Ritzos or his circle (Vocotopoulos 1994 (1), fig. 201.5. Holy Image, Holy Space 1988, no. 47. Acheimastou-Potamianou 1994 (1), vol. I, p. 7, vol. II, fig. 4. Eikones 1993, no. 159). In the Vatopedi icon, which lacks the calligraphic starkness that characterises the icon of the Archangel Michael, the shadow of the nose descends to the chin, defined by a white line, a technical detail typically seen in the work of Angelos and Ritzos (Chatzidakis 1977, p. 60. Acheimastou-Potamianou 1994 (1), vol. I, p. 7).

These features, coupled with the high standard of the painting, date the icon to the middle or the second half of the fifteenth century and link it with the artistic environment of Angelos or with early works of Andreas Ritzos.