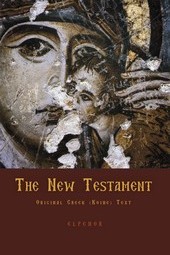 The left side of the picture is dominated by the figure of Christ, moving towards the right, his right hand extended towards the dead Lazarus. Behind him is the dense, deep crowd of the disciples, headed by Peter and John. The dead man's sisters, Martha and Mary, kneel at Christ's feet, their faces profoundly marked by grief and pain.

On the right of the composition is Lazarus wrapped in his cerements in a tomb hewn out of the rock. It has just been opened by three servants in short tunics. On Lazarus's right, a crowd of Jews of all ages watch the scene with curiosity and disbelief. The background is occupied by two huge masses of rock, which rise steplike to their peaks and serve as symmetrical backdrops to the two groups which are the main focal points of the icon. In the centre, behind the rocks, is the wall of Bethany, with a male figure painted in monochrome in the tympanum over the gate. Directly above the wall is the inscription, in capitals on a gold ground: 'The Raising of Lazarus'.

From an iconographical point of view, there is nothing original about this icon, for it reproduces a format known from the mid-Byzantine period, which continued both in Palaeologan art and in the post-Byzantine period (Millet 1916, pp. 237ff., figs. 211-16). The format differs in several respects from the tight, balanced, symmetrical, composite schema of works of the Cretan School (Millet 1916, fig. 223. Chatzidakis 1969-70, figs. 9, 38, 73).

From an artistic point of view, the figures are slender with small heads and serene poses. The expressionless faces are undifferentiated. As regards technique, they are rendered with rapid brushstrokes after the manner of fresco painting, with quite sharp chiaroscuro. The clothing is characterised by angular highlights and the folds have a hard, geometrical linearity.

The iconographical format, the type of the figures, and the similarity of expression on the rugged faces all point to a workshop active on Mount Athos in the late fifteenth or early sixteenth century, before Theophanis the Cretan settled there in 1535. The same workshop produced an icon of the Entry into Jerusalem which is in the repository of the Protaton and shows that this icon of the Raising of Lazarus belongs among the Dodekaorton on the epistyle of an iconostasis.