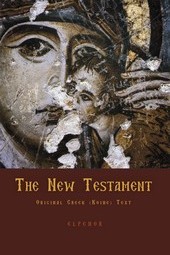 The icon is smaller than its original dimensions, having been trimmed along all four sides. It depicts St Nephon II, Patriarch of Constantinople, and the ruling Prince of Wallachia, Neagoe Basarab (1512-21), founder of Dionysiou Monastery.

St Nephon is depicted from the waist up in the vestments of a prelate. In his left hand he holds a closed Gospel, with his right he makes a gesture of blessing. On the left, in an attitude of prayer, is the ruling Prince of Wallachia, Neagoe Basarab, wearing a crown.

St Nephon, to whose memory a chapel in the monastery is dedicated, was a hieromonk in Dionysiou Monastery. He became Archbishop of Thessaloniki, Patriarch of Constantinople twice (1486-9 and 1497-8), and then, at the invitation of the ruling Prince, Radulu, he went to Wallachia to help sustain the Orthodox faith. He returned to Dionysiou, where he died in 1508 (Millet - Pargoire - Petit 1904, no. 465, p. 162. Kadas 1997, pp. 133-4).

Neagoe was founder of the monastery, paying for the building of the tower (1520) and the aqueduct, both of which still stand (Kadas 1996 (2), p. 213).

This portrayal of St Nephon and Neagoe together in the same icon is connected with the fact that Neagoe was Nephon's spiritual son. Neagoe was also responsible for the construction in 1515 of a gilded silver reliquary in the shape of a church, which contains the saint's relics and is still in the monastery today (Millet - Pargoire - Petit 1904, no. 465, pp. 161-2). In 1518, Neagoe took Nephon's head and right hand to the capital of Wallachia, Curtea de Arges, where, at the invitation of Neagoe's predecessor, Radulu, the saint had worked to sustain the Orthodox faith of his subjects.