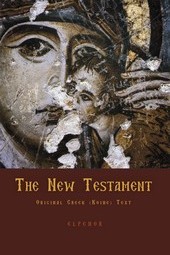 This icon and four others - of the Virgin, John the Baptist, St Peter, and St Paul - arranged symmetrically around the central, frontal figure of Christ, make up the Great Deesis group on the iconostasis in the katholikon of Dionysiou Monastery. With their well-posed sturdy figures, these five icons together compose a broad, monumental, rhythmically coherent composition, one of the most important of its time, and precisely dated to 1542.

Along the narrow bottom edge of the icons runs the following archaic metrical inscription in white majuscules: ''ΓΡΑΦΕΩΣ ΘΥΤΟΥ ΤΕΥΞΕΝ ΧΕΙΡ / ΤΑΠΕΙΝΟΥ ΕΥΦΡΟΣΥΝΟΥ / ΕΞΟΔΟΣ ΚΛΗΜΕΝΤΟΣ ΚΡΗΤΟΣ. Κ(ΑΙ) ΙΕΡΟΜΟΝΑΧΟΥ / ΠΡΕΣΒΕΥΕ ΚΗΡΥΞ ΒΑΠΤΙΣΤΑ / ΧΡ(ΙΣΤ)Ω ΔΙ' ΑΜΦΟΤΕΡΩΝ. ΕΤΟΥΣ ΖΝ 'Ινδ(ικτιώνος) ΙΕ΄ 'Ιανουαρίου κα΄'' (Made by the hand of the scribe and priest, the humble Euphrosynos, at the expense of Clement, Cretan and hieromonk. Mediate, herald Baptist, with Christ for both of them. In the year [AM] 7050, 15th indiction, January 21). Thanks to this inscription, we learn the name of the painter of the icons, the dedicator's name and place of origin, and the year in which the Great Deesis was painted, which is 1542.

Three of the five icons that make up this monumental Great Deesis are displayed in the exhibition: Christ, the Virgin, and John the Baptist.

Christ is portrayed frontally from the waist up, holding a closed Gospel in his left hand and making a gesture of blessing with his right. He wears an aubergine tunic with a clavus and a deep blue mantle.

This writer believes that the origins of the facial type, with its sweetly benevolent expression, and the painting technique, with the soft chiaroscuro and the painterly function of the linear highlights on the illuminated face, may be traced back to types and manners used by the Cretan School in the fifteenth century. The facial type of Christ in particular, with its idealised beauty and its stylistic features, attests direct links with the work of the fifteenth-century painter Angelos (1430-57), as represented by the icon of Christ in the Pushkin Museum in Moscow and the figure of Christ in the icon of the Deesis in Viannou Monastery on Crete (Eikones 1993, nos. 85, 157).