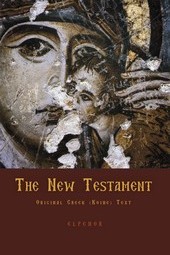 The Virgin is depicted from the waist up in a suppliant pose, turning three-quarters to the right. She wears a blusih tunic and a brick-red mantle edged and fringed with gold. Three gold stellar ornaments on her mantle symbolise the Trinity and hint at her role in the incarnation (Galavaris 1967-8, pp. 364-9).

Along the bottom of the icon runs part of the inscription that accompanies the whole Great Deesis group, the part with the painter's name: 'humble Euphrosynos'. On the gold ground of the icon are the abbreviations that stand for 'Mother of God'.

The facial type and the technique of rendering the face, with the soft chiaroscuro, the large, luminous area of rosy-hued flesh, and the supple linear highlights, convey all the delicacy of the flesh and the most venerable beauty of the Mother of God.

The specific facial type of the Virgin, with its expression of sweet sorrow, and its technical execution again have their origins in the painting of Angelos, as is apparent if we compare the Virgin from the Great Deesis and the Virgin from Angelos's Deesis in Viannou Monastery on Crete (Eikones 1993, no. 151).