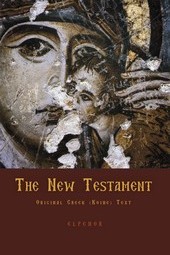 St John the Baptist is portrayed from the waist up in a suppliant pose, turning three-quarters to the left. His broad, burly body is dressed in an orange tunic and a dark olive-green himation.

Along the bottom of the icon runs part of the inscription that accompanies the whole Great Deesis group: 'Mediate, herald Baptist'. On the gold ground of the icon is the abbreviated inscription: 'St John the Baptist'.

The face, long and narrow with finely drawn features, is distinguished by a faultless technique, soft chiaroscuro, and supple linear highlights emphasising the soft, resilient flesh.

This writer believes that the breadth of the figure, the facial type, with its profound pensive gaze and humble expression, and the painting technique have direct connections with works of the fifteenth-century Cretan School, and more specifically with works by Angelos (1430-57), such as the Baptist in the icon of the Deesis in Viannou Monastery on Crete (Eikones 1993, no. 157).

To sum up, these Great Deesis icons by Euphrosynos - the only works of his that are known to us - were painted on Crete and commissioned by the Cretan hieromonk Clement. With their robust figures grouped in an integrated, monumental, rhythmically coherent composition, their faultless soft and resilient technical execution, and the serene, peaceful expression and profoundly spiritual air of the faces, these icons are works of outstanding artistic merit painted by a member of the Cretan School just before the mid-sixteenth century (1542). They are the work of a named artist, Euphrosynos, who, this writer believes, drew his inspiration from early works of the fifteenth-century Cretan School, which like the paintings of Angelos (1430-57), are closely linked with the late-Palaeologan artistic tradition of Constantinople.