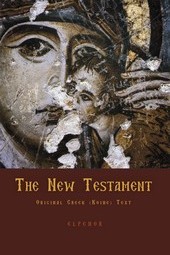 The Virgin is depicted from the waist up turning three-quarters to the right in a gesture of supplication. She wears a deep blue tunic and a brick-red mantle with gold edging and a gold fringe. Three gold stellar ornaments on her mantle symbolise the Trinity and allude to her role in the incarnation (Galavaris 1967-8, pp. 364-9).

Her face is small in relation to her wide body, with prominent cheekbones, and sharp chiaroscuro rendered in an impeccable linear, though cold and calligraphic, technique. It reveals a certain stylisation and aridity in the painter's technique in relation to the work he probably used as his model, which may have been either the Virgin from Euphrosynos's Deesis in Dionysiou Monastery (no. 2.45) or, more probably, a work by Theophanis that pre-dates the Virgin Hodegetria in Stavronikita Monastery (1546; Chatzidakis 1969-70, fig. 83. Patrinelis - Karakatsani - Theochari 1974, fig. 13).

At a physiognomical and technical level, then, the Protaton Virgin recalls iconic types and artistic techniques of Theophanis's contemporary and probable apprentice, Zorzis, who painted the frescoes in the katholikon of Dionysiou Monastery (1547) and to whom are ascribed the frescoes in the katholika of the Great Meteoron (1552; Chatzidakis - Sofianos 1990, fig. 161) and Docheiariou (1568; Chatzidakis 1987, p. 297, among others).