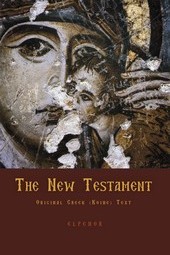 The 'first among the Apostles' is portrayed full-length, standing, and turning slightly to the left. He makes a gesture of blessing with his right hand and holds in his left an open scroll with a now illegible inscription. This is a tall, slender figure, with a relatively small head and a wide face with prominent cheekbones, an aquiline nose, arched brows, and large almond-shaped eyes. The beard is short, the hair curly, with a linear mannerist texture characteristic of late Comnenian painting (Tsigaridas 1986, pp. 95-7); he wears a long bluish tunic and a brownish himation that hangs with monumental weight.

The execution of the face does not use the sharp chiaroscuro so characteristic of some manifestations of late Comnenian painting: the flesh is rendered with gentle gradations of a uniform wheaten colour, the cheeks enlivened with patches of red. The resulting expression is serene and tranquil.

On the other hand, the slightly counterpoised movement of the body with one leg straight and the other flexed, and the slight turn of the trunk and the head with which the artist tries to modify the frontal pose make this icon one of the forerunners of the so-called 'dynamic style' of the second half of the twelfth century. This trend involved a revival of a thematic repertory known from antiquity - relating to the poses and movements of the figures; it was enriched with the Comnenian dynamic conception, in the classical style, of the figure moving or standing in space, but without the extreme aspects of late Comnenian painting at the end of the twelfth century (Tsigaridas 1986, pp. 112-6).

The drapery is shapely and flows over the body in such a way as to reveal the volumes beneath, producing a harmonious relationship between clothing and body which is a feature of the classical aspect of Comnenian painting in the third quarter of the twelfth century (Tsigaridas 1986, pp. 117-8, 122-3).

The monumental stance of the figure, the plasticity of the drapery as it hints at the body beneath, the linear calligraphic rendering of the hair, and the serene facial expression carrying no emotional charge are features that place this icon in the classical style of the Comnenian period and link it with the monumental paintings in the Church of Hosios David in Thessaloniki (1169-70) and the Church of St Nicholas Kasnidzis in Kastoria (1160-80), among others.