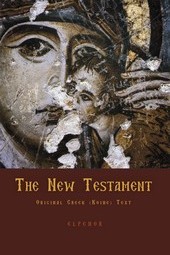 St Paul is depicted from the waist up, turning slightly to the left. He wears a deep blue tunic with a clavus and a brown himation with broad light blue illuminated areas and white highlights. He holds a closed, bound Gospel with both hands. In the upper left and right corners survives the inscription in majuscules: 'St Paul'.

The Apostle's oval face, with its harsh regular features and furrowed brow, is supported by a long neck upon sloping shoulders. The drapery is flat, with stiff, hard folds making the body seem almost fleshless.

The icons of Christ, the Virgin, John the Baptist, and of the Archangels Gabriel and Michael and the Apostles Peter and Paul (nos. 2.47-2.53) belong to a group of eleven, probably portable, icons which made up the Great Deesis on an iconostasis. The first three are now on the tenth-century marble templon in the Protaton.

On the basis of the inscription on the frame of the icon of John the Baptist, mentioning Gregorios as the Protos of Athos , all these icons have been dated to 1542 and ascribed to the Cretan painter Theophanis (Chatzidakis 1969-70, p. 326 n. 56. Borboudakis 1993, pp. 11-13). However, the present writer is of the opinion that the dry, calligraphic linearity of the rendering of the faces and hair, the chiaroscuro that makes the faces so stark, and the stiff stylised drapery which effaces the volumes of the body are alien to Theophanis's style; nor are these features to be seen in works of his that postdate these Protaton icons, such as the Great Deesis group (1546) in Stavronikita Monastery (Patrinelis - Karakatsani - Theochari 1974, p. 111, figs. 37-8).

This writer believes that the specific features mentioned above link the Protaton icons with another Cretan painter, Zorzis, who was probably a student of Theophanis's on Mount Athos and who painted the frescoes in the katholika of Dionysiou Monastery (1547) and Doussiko Monastery (1557) in Thessaly (Chatzidakis 1987, p. 297, among others).

As it appears at least from an examination of the recently restored Dionysiou wall paintings, Zorzis closely followed Theophanis's iconic models and artistic techniques, but his work lacks the quality of the prototype. His painting is more schematic, more linear, and as regards expression, his uneasy faces lack the serene spirituality that imbues all Theophanis's works.

Xyngopoulos expressed a similar opinion with regard to the Protaton icons. He did not attribute them to Theophanis, but asserted that 'the painter of the Protaton icons had as his immediate models the frescoes painted by Theophanis in 1535 in the katholikon of the Great Lavra' (Xyngopoulos 1957 (1), pp. 133-4).