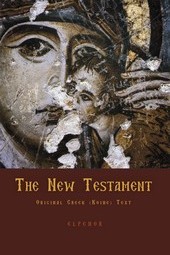 Originally placed in the middle of the iconostasis in the katholikon, above the Dodekaorton and the Great Deesis icons, this cross is part of the ensemble of icons on the iconostasis in the katholikon of Stavronikita Monastery, the work of Theophanis and his son Symeon in 1546 (Patrinelis - Karakatsani - Theochari 1974, pp. 58-60).

On the wooden cross, which has no carved decoration, is a painting of the dead Christ nailed to the cross. The three five-lobed extremities of the cross bear representations of the symbols of the Evangelists, the eagle of St John, the lion of St Mark, and the angel of St Matthew. The calf of St Luke is missing because the bottom of the cross has been broken off. At the top of the painted cross is a tabula ansata bearing the inscription: 'The King of Glory'. The abbreviated form of 'Jesus Christ' is inscribed on the horizontal arms.

Christ's head has fallen onto his right shoulder and his limp body forms the double curve of a reverse S. A loincloth is knotted around his hips.

This type of cross, painted with the crucified Christ and the symbols of the four Evangelists, traces its origins to the Venetian crosses of the thirteenth and fourteenth centuries and is an established feature of the iconography of Cretan crosses of the sixteenth and seventeenth centuries (Chatzidakis 1962, p. 178. Kazanaki-Lappa 1991, pp. 226-32, pl. 117). The older crosses of this type on Mount Athos survive in Iviron Monastery (1525), the Great Lavra (1535), Dionysiou Monastery (1542), and Koutloumousiou Monastery, among others.

The crucified Christ is rendered in accordance with the traditional iconography and the artistic manners of the Cretan School. The configuration of the sinews on the arms, sternum, and ribs recalls techniques seen on the crucified Christ in the Great Lavra, but in fact they seem to derive from Italian/Cretan works of the late fifteenth century (Chatzidaki 1993, figs. 3, 15).