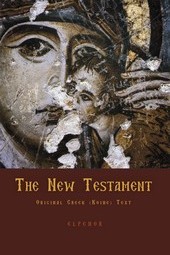 This is one of five icons which, with others that no longer survive, made up the Great Deesis group on the iconostasis in the katholikon of Stavronikita Monastery (1546). The other four surviving icons represent Sts Paul, Luke, Mark, and Andrew.

Peter is depicted from the waist up turning to the right. He wears a dark green tunic and an orange himation. In his left hand he holds a half-open scroll, his right is raised in blessing.

Typologically, this figure resembles the St Peter in the Protaton in Karyes (no. 2.52), an icon which is attributed to Zorzis, not Theophanis. But despite the typological similarities - which are obviously due to a common model, probably painted by Theophanis before 1542 - the Stavronikita St Peter is distinguished by a softer, painterly, execution of the face and hair and by more elaborate drapery, which is supple and clearly reflects the shape of the body beneath.

The icons from the Stavronikita Great Deesis share a stylistic coherence, date to 1546, and are jointly attributed to the Cretan painter Theophanis and his son Symeon (Chatzidakis 1969-70, p. 325, figs. 63-7. Patrinelis - Karakatsani - Theochari 1974, pp. 58-9, 111, figs. 36-40).

Not only the Great Deesis icons, but all the icons on the iconostasis in the katholikon, as also the frescoes in the katholikon, the refectory, and the Chapel of St John the Prodrome, are ascribed to Theophanis and his atelier (Chatzidakis 1986 (1), pp. 39-40).