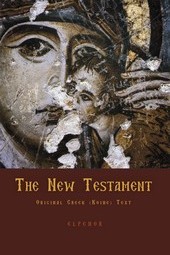 This is one of five icons, which, with others that no longer survive, made up the Great Deesis ensemble on the iconostasis in the katholikon of Stavronikita Monastery, the work of Theophanis the Cretan in 1546.

Paul is depicted from the waist up, turning slightly to the left. He wears a deep blue tunic and a red himation and holds a closed Gospel in both hands. On the gold ground of the icon - which has been inserted into a new frame - is the identifying inscription: 'St Paul'.

Typologically, this figure is a replica of the St Paul (1542) in the Protaton in Karyes (no. 2.53), an icon which is attributed to Zorzis, not Theophanis. But despite the typological similarities - which are obviously due to a common model, probably painted by Theophanis before 1542 - the Protaton St Paul has a lean face, its inner state roughly represented, and a fleshless body, covered by drapery that is stiffly linear, flat, and geometrical. The Stavronikita St Paul, by contrast, is distinguished by his physical breadth, the solid rendering of the facial volumes which still have a certain resilience, and his pensive expression and intense gaze. Despite its linearity and patchy highlighting, the drapery preserves something of the suppleness of the garments and gives some idea of the shape of the body beneath.