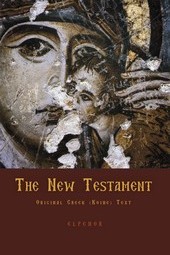 These bema doors are part of an ensemble of twenty-three icons, which, with others that no longer survive, made up the painted decoration of the iconostasis in the katholikon of Stavronikita Monastery, the work of Theophanis and his son Symeon in 1546.

Each door bears a representation of one of the two protagonists in the Annunciation. On the left door is the archangel Gabriel calmly stepping towards the Virgin. He wears imperial garb and holds a sceptre in his left hand, his right being advanced in an oratorical gesture. On the right door is the Virgin, standing and turning slightly towards the angel, her pose one of humble submission to the will of God. She stands on an orange footstool with gold striation, wearing a deep blue tunic and a deep red mantle. In her left hand she holds her distaff and spindle, the latter with red thread wound around it. Both figures are set against a plain gold ground with no indication of any spatial setting.

From an iconographical point of view, the artist presents a spare, simple format: the poses and gestures are discreet, there is no emphasis on movement, and the serene faces are possessed by the mystery of the divine incarnation. It is a format that traces its origins to the fourteenth-century bema doors in the Great Lavra (Vocotopoulos 1995, no. 116) and to the fourteenth- to fifteenth-century bema doors in Simonopetra Monastery (no. 2.28).

From an artistic point of view, the type of the figures, the manner of rendering the faces and the drapery, the palette, and the serene, harmonious rhythm of the poses and movements confirm that the Annunciation on these bema doors is the work of Theophanis.