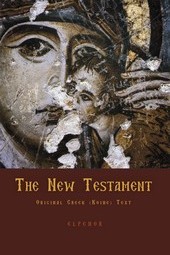 This is one of the fifteen icons that made up the Dodekaorton on the epistyle of the iconostasis in the katholikon of Stavronikita Monastery, which is dated to 1546 and attributed to Theophanis and his son Symeon (Chatzidakis 1969-70, pp. 325-6. Patrinelis - Karakatsani - Theochari 1974, pp. 58-60). This Dodekaorton, as also that in Iviron Monastery (nos. 2.42-2.43), together mark the culmination of the iconographical and artistic tradition of the Cretan School, which developed distinctive iconographical types and artistic techniques as early as the fifteenth century.

In this icon of the Annunciation (Luke 1:28-38), the archangel Gabriel approaches rapidly from the left, stretching forth his right hand in a conversational gesture, and holding a long sceptre in his left. In accordance with the Gospel, he announces to the Virgin the message of salvation: 'Hail, thou that art highly favoured, the Lord is with thee: blessed art thou among women.' The Virgin on the right receives the glad tidings seated on a backless throne, holding her distaff and red thread, turning her body and bowing her head in acquiescence towards the angel. In the corners, two tall, complex buildings, linked by a light green wall with rectangular niches, provide the spatial setting for the scene.

From an iconographical point of view, in this icon of the Annunciation Theophanis presents a type taken from Comnenian and Palaeologan art (Millet 1916, figs. 12, 20, 21. Soteriou 1956, fig. 208). It is a type that was revived in such fifteenth-century works as the scene of the Annunciation in the icon known as 'In thee rejoices' in the Byzantine Museum in Athens (Chatzidakis 1986 (1), Appendix fig. 1). Theophanis also used the same iconographical format in the katholikon of Anapafsas Monastery (1527), in the refectory of the Great Lavra (1535), and in the katholikon and refectory of Stavronikita Monastery (Millet 1916, fig. 30. Chatzidakis 1986 (1), p. 64, figs. 82, 208).

From an artistic point of view, the icon displays such key features of the art of Theophanis and the Cretan School as serene facial expressions, a harmonious rhythm that contains the figures and unifies them in a solid closed composition, flowing drapery discreetly revealing the shape of body beneath, and the harmonious way the figures are framed by the architectural backdrop.