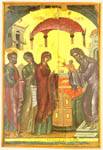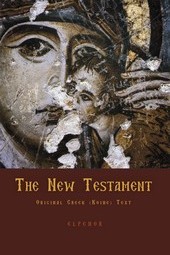 In this icon of the Presentation, which is based on the account in Luke 2:22-38, the 'just and devout' Simeon is depicted on a pedestal, holding Christ piously in both hands, on the point of handing him back to the Virgin, who stands on the left. The Virgin is followed by Anna, the prophetess 'of a great age', who lifts her right hand in a conversational gesture and holds in her left an open scroll bearing the inscription: 'This infant hath made fast heaven and earth.' Anna is turning her head towards Joseph behind her, who is carrying in both hands 'a pair of turtledoves, or two young pigeons', the Jews' customary offering for this ceremony. Behind the figures are the buildings that give the scene its spatial context. Between Simeon and the Virgin are a pair of the bema doors with a low screen of green marble, and behind these the upper part of the altar, draped with a red cloth and with a red book lying on it. Over the altar is a ciborium supported by columns and in the background the wall of Jerusalem is just discernible. Behind Simeon and Joseph rise tall, narrow buildings, symmetrically flanking the figures in the scene. On the gold ground of the icon, which is framed at the top by a blue arc, is the inscription: 'The Presentation'.

This icon of the Presentation follows an iconographical format that took final shape in the Palaeologan era (Xyngopoulos 1929, pp. 328-39. Shorr 1946, pp. 17ff.). By way of fifteenth-century works of the Cretan School, such as the icon of the Presentation on Patmos and the scene of the Presentation in Nikolaos Ritzos' icon of the Deesis and the Dodekaorton in Sarajevo (Chatzidakis 1977, no. 26, pls. 24, 202), this specific type was reproduced by Theophanis and became especially popular in post-Byzantine art (Chatzidakis 1969-70, fig. 36. Drandakis 1990, fig. 89, etc.). Theophanis in particular adopted this iconographical format, with variations, not only in the Stavronikita icon, but also in the wall paintings in the katholika of Anapafsas Monastery (1527), the Great Lavra (1535), and Stavronikita (1545-6) (Millet 1927, pl. 119. Chatzidakis 1986 (1), fig. 85).

From an artistic point of view, the scene is distinguished by its solid organisation, in which the figures are held together by an indefinable, rhythmic dialogue of poses and movements, which unify them in a balanced, symmetrical composition similar to that of the Patmos and Sarajevo icons, which are dated to the end of the fifteenth century.