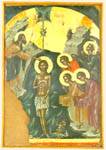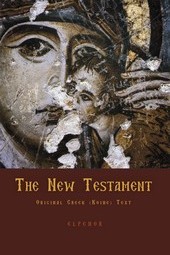 In the centre of the icon stands Christ in the blue waters of the River Jordan, in a frontal pose and wearing only a loincloth. From an opening in the sky in the upper portion of the icon, the Holy Spirit descends in the form of a dove upon Christ's head. On the left bank of the river, which rises in a stylised manner, John the Baptist, clad in tunic and himation, bends slightly to baptise Christ, while lifting his head to the Holy Spirit. On the right bank, three angels venerate Christ, their hands respectfully veiled, while a fourth lifts its head to the Holy Spirit. The stylised water is full of fish, and in the lower right section is the personification of the sea riding on a sea monster. The left part of the river no longer survives, but would have contained the personification of the Jordan in the form of an aged river god.

Theophanis adopted the same spare iconographical format, with variations from monument to monument, in the katholika of the Great Lavra (1535; Millet 1927, pl. 123.2), and Stavronikita (1545-6; Chatzidakis 1986 (1), fig. 7), and in an icon of the Baptism in Pantokrator Monastery, which is attributed to him (Tsigaridas 1997 (3)). It is a format which originated in works of the Cretan School, such as the scene of the Baptism in Nikolaos Ritzos' icon of the Deesis and the Dodekaorton in Sarajevo (Chatzidakis 1977, pl. 202), which Theophanis follows cosely in terms of both iconographical type and details.

From an artistic point of view, this icon of the Baptism is distinguished by its tight, balanced, symmetrical composition, in which the figures are linked by their rhythmically reciprocal poses and movements - key features of the Cretan School and of Theophanis's painting.