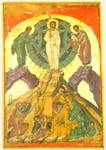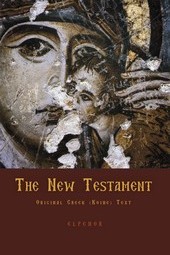 Christ, dressed in white, stands on the peak of Mount Tabor, surrounded by a resplendent round aureole. He is flanked by Elijah and Moses, standing on rocky peaks in the form of arches in the middle ground, Moses holding the tables of the Law. In the foreground, the poses and gestures of the disciples Peter, John, and James reveal the intense dread inspired by this theophany. On the gold ground, directly below the red arched upper border, is the inscription: 'The Transfiguration'.

In its general iconographical format and in the arrangement, poses, and gestures of the figures, the Stavronikita icon is modelled on the miniature of the Transfiguration in Cod. Par. Gr. 1242 (1371-5; Galavaris 1995 (2), fig. 224), which, in Theophanis's time, was still in the Monastery of St Anastasia outside Thessaloniki, on the road to Mount Athos. This elegant Palaeologan iconographical format passed into sixteenth-century art by way of the tradition of the fifteenth-century Cretan School, as is apparent from a comparison between the Stavronikita icon and the icon of the Transfiguration in the Benaki Museum, Athens, which is dated to the second half of the fifteenth century (Chatzidaki 1983, fig. 26). As regards sixteenth-century icons, the Stavronikita Transfiguration reveals close iconographical and stylistic similarities with two icons of the Transfiguration in Pantokrator Monastery (no. 2.74), both attributed to Theophanis (Tsigaridas 1997 (3)).

From an artistic point of view, the Stavronikita icon is chiefly characterised by a balanced, symmetrical arrangement of the figures and the landscape details; by reciprocal poses and movements, which obey a smooth rhythm that holds the figures together and integrates them harmoniously into the composition; by sensitivity for colour; and by a distinctive permutation of colours, all of which are characteristics of Theophanis's work.