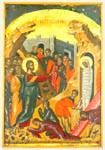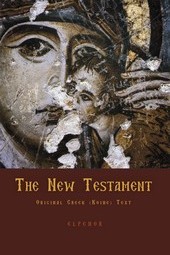 Christ is depicted on the left, putting forth his right hand to bless the dead Lazarus, who stands wrapped in his cerements before the arched entrance to the tomb, excavated out of the rock. Christ is accompanied by his disciples, who crowd behind him with Peter at their head. Lazarus's sisters, Martha and Mary, have fallen at Christ's feet, their faces profoundly marked by grief. A Jew behind them has lifted the marble tombstone, and another is unwrapping the cerements from Lazarus's body. In the background, behind the rocks which frame the scene and cant in towards the centre, a group of Jews emerge from the walled city of Bethany and observe in astonishment the scene of the Raising of Lazarus.

This iconographical format is known from the Byzantine period, and the specific details trace their origin to such fifteenth-century Cretan compositions as the Raising of Lazarus in the late fifteenth-century two-zone icon on Patmos (Chatzidakis 1977, no. 25, pl. 23). Theophanis used the same iconographical format in the katholika of Anapafsas Monastery at Meteora, the Great Lavra, and Stavronikita Monastery, as also in the icon of the Raising of Lazarus in the Dodekaorton in the Great Lavra (Chatzidakis 1969-70, figs. 9, 38. Millet 1927, pl. 124.1. Chatzidakis 1986 (1), fig. 88).

From an artistic point of view, the Stavronikita icon is distinguished by a tight, balanced composition in the classical style, by reciprocal poses and movements, and by the functional role of the landscape, the volumes of which accompany and enhance the various compositional groups. One of Theophanis's most splendid creations, this composition was especially popular in the art of the Ottoman period (Tourta 1991, p. 78, pl. 46).