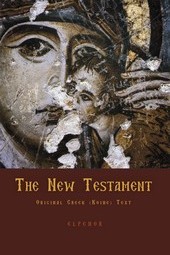 Christ is portrayed in the foreground, 'riding upon an ass' towards the city of Jerusalem, holding a closed scroll and lifting his right hand in blessing. His head is turned towards the disciples behind him, led by Peter. On the right, in front of the walled city of Jerusalem -which is dominated by the octagonal Temple of Solomon with its high polygonal dome- is a group of Jews, who have come out to welcome him with palm leaves. Little children strew garments and palm leaves on the ground before the Lord. Beside the rocky prominence near Christ and the disciples, a child has scrambled up a slender tree to cut off branches with a pruning-hook. Below the red arched upper border is the inscription: 'The Entry into Jerusalem'.

Both the overall icongraphical layout of the scene and the details link it closely with works of the Cretan School in the second half of the fifteenth century, such as the icon of the Entry into Jerusalem on Lefkada (Byzantine and Post-Byzantine Art 1986, no. 125) and, particularly, the Entry into Jerusalem in the two-zone icon on Patmos (Chatzidakis 1977, no. 25, pl. 26) and in Nikolaos Ritzos's icon of the Deesis and the Dodekaorton (1507) in Sarajevo (Chatzidakis 1977, pl. 202). It is an iconographical format that was particularly popular during the period of Ottoman rule (Tourta 1991, pp. 79-81, pl. 46α), and Theophanis also used it in the katholikon of Anapafsas Monastery (1527) at Meteora and in the icon and the fresco in the katholikon of the Great Lavra (1535; Chatzidakis 1969-70, p. 325, figs. 10, 39, 74. Millet 1927, pl. 125.1).

From an artistic point of view, Theophanis's icon of the Entry into Jerusalem displays a classical, balanced, symmetrical composition, with serene delicate figures and a bright palette. It is worth noting the subtle way he introduces western elements into his compositions, such as the green skullcap worn here by one of the Jews, which recalls figures in works of the Siena School.