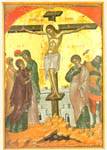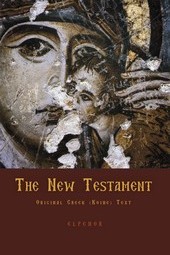 The centre of the icon is occupied by Christ, hanging lifeless on the cross, which is embedded in the rock of Calvary. His head droops onto his right shoulder and his limp body forms the double curve of a reverse letter S. The cross is flanked by the main people present at the Crucifixion, in two groups. On the left, under the arm of the cross, a group of three women give both moral and physical support to the Virgin, who is exhausted by the grief and pain of her son's death. On the right of the cross, John is portrayed in a limp pose reminiscent of figures on ancient tombstones. Behind him, the centurion's pose, gesture, and facial expression all attest the astonished, heart-felt confession that 'Truly this man was the Son of God' (Mark 15:39). The walls of Jerusalem are seen in the background, and below the red arched upper border is the inscription: 'The Crucifixion'.

In this icon of the Crucifixion, Theophanis adopts an iconographical layout from the Palaeologan period, which was introduced into the painting of the sixteenth and seventeenth centuries by way of the fifteenth-century Cretan School. Works of the Cretan School, such as the scene of the Crucifixion in Nikolaos Ritzos's icon of the Deesis and the Dodekaorton (1504) in Sarajevo and, particularly, the icon of the Crucifixion in the parish of Sfaka in the diocese of Ierapytna and Sitia on Crete (ca. 1500), undoubtedly served as models for Theophanis's icon of the Crucifixion (Eikones, no. 150. Chatzidakis 1977, pl. 202).

From an artistic point of view, the composition is tight and spare, with the separate groups integrated into it evenly and symmetrically on either side of the crucified Christ, and the individual figures subjected by their graceful poses and movements to a harmonious rhythm that holds the whole composition together. The spare simplicity of the composition, which serves the theological and doctrinal conception of the Crucifixion, and the artistic quality of the work, with its lyrical lines, bright colours, and controlled expression of human pain with no tension in the faces, make this icon one of the most outstanding creations of the Cretan School, and were echoed in the art of the sixteenth and seventeenth centuries (Holy Image, Holy Space 1988, no. 80. Eikones, no. 155. Pyles Mysteriou 1994, no. 4).