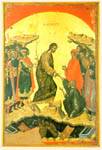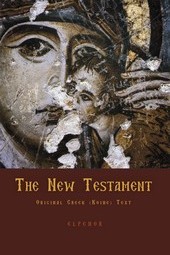 The standing Christ is the focal point of the icon, without the mandorla which usually surrounds him. He moves towards the right, raising the kneeling Adam with his right hand and holding a closed scroll in his left. He is flanked by two groups, equal in size and on a smaller scale than himself. On the right are the righteous, headed by the suppliant Eve; on the left the kings and prophets of the Jews, headed by John the Baptist. Behind the two groups, beetling cliffs converge upon the central figure of Christ. The whole foreground is occupied by the rocky cavern of Hades, with its smashed doors and empty sarcophagi. In the middle of the cavern are the figures of Hades and Satan, crouching together in dread of Christ, who has vanquished death. On the gold ground of the icon, below the red arched upper border, is the inscription: 'The Anastasis'.

In Theophanis's icon, the iconography of the Anastasis, inspired by the Apocryphal Gospel of Nicodemus, derives from works of the fifteenth-century Cretan School, whose iconography developed out of iconographical types in Palaeologan painting. Specifically, the icon of the Anastasis in the Hermitage, which is ascribed to the Cretan painter Andreas Ritzos (1421-92), has been designated as the prototype for the iconographical type of the Cretan School's icons of the same subject (Eikones, no. 1, pp. 326-9). Significantly, the iconographical type of the Hermitage icon is also seen in Nikolaos Ritzos's icon in Sarajevo (1504), in Theophanis's fresco and icon in the katholikon of Anapafsas Monastery (1527) and in Stavronikita Monastery (1546) respectively, in the icon of the Anastasis in the Dodekaorton on the epistyle of the Great Lavra iconostasis (Chatzidakis 1969-70, figs. 12, 76, 41), and in sixteenth-century icons in Cyprus (Papageorghiou 1969, p. 66. Papageorghiou 1991, fig. 109, among others).

As regards the iconographical type, the quest for synthesis, the technique and palette, as also the serenity which imbues the figures, the Stavronikita icon is thus directly or indirectly modelled on the icon of the Anastasis in the Hermitage in St Petersburg (Chatzidakis 1986 (1), pp. 67-8, Append. figs. 24-5).