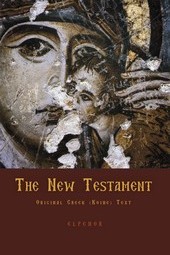 The centre of the icon is occupied by the imposing figure of Christ, standing on a gentle green hill dotted with plants and extending both hands out to the sides in blessing. The marks of the nails are still visible on his hands and feet, and the spearwound is apparent on the right side of his chest. He is flanked by two kneeling women, the Virgin on the left and Mary Magdalene on the right, behind each of whom rises a bare rock, narrowing towards the top. The two women are identified by inscriptions over their back and halo respectively, as 'St Mary Magdalene' and the 'Mother of God', and the central figure as 'Jesus Christ'. Below the red arched upper border is the inscription: 'The ''Chairete'' to the Myrrhophores'.

This scene, which is Christ's first appearance after his burial and belongs to the iconographical cycle of the Anastasis, illustrates the text of Matthew 29:9: 'And as they went to tell his disciples, behold, Jesus met them, saying, All hail. And they came and held him by the feet, and worshipped him.'

From an iconographical point of view, the scene, which is known from early Christian art, was especially popular in Byzantine and post-Byzantine painting (Millet 1916, pp. 540-50. Geroulanou-Kalliga 1962-3, pp. 203ff.). The specific iconographical type of the Stavronikita icon is in fact a close copy of the same subject in a two-zone icon in the Collection of St Catherine's, Sinaiton, on Crete (Eikones, no. 94), and was also used in the Dodekaorton in Iviron Monastery (Tsigaridas 1991-2, p. 193, fig. 14), which Theophanis painted some time between 1535 and 1546.

From an artistic point of view, like the Iviron icon of the same subject, the Stavronikita 'Chairete' adopts a strict and symmetrical format, which revolves around the focal point of the figure of Christ, and harmoniously incorporates elements of western art. With her long loose hair and soft red cloak, Mary Magdalene is rendered in both works in a western iconographical type and manner (Tsigaridas 1991-2, p. 193 n. 21). The sculpturesque quality and material weight of the Virgin's garment also trace their origins to western manners of painting, which entered post-Byzantine works by way of icons produced by Cretan workshops, which adopted western iconographical types of the Virgin, such as the Madre della Consolazione (Tsigaridas 1991-2, p. 193 n. 22). However, the bare rocks behind the two women are rendered in the spirit of Byzantine painting, while the hill on which Christ stands is soft and gentle and rendered more in accordance with the western perception. The only difference between the two icons is one of depth: in the Iviron icon the natural horizon extends behind the rocks in accordance with the western painting; the same is not true of the Stavronikita 'Chairete' to the Myrrhophores.