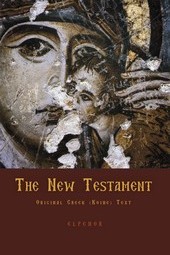 Christ stands in contrapposto on the peak of Mount Tabor surrounded by a deep blue round aureola. With his right hand he makes a gesture of blessing, in his left he holds a closed scroll. He is flanked, on peaks of equal height outside the aureola, by Elijah and Moses, the former making a gesture of supplication, the latter holding the tables of the Law, and both bowing towards Christ.

In the lower part of the scene we see, from left to right, the disciples Peter, John, and James. Peter kneels and lifts his right hand and his head towards Christ. John, in the centre, is unconcerned and aloof, in a pose similar to that of Joseph in scenes of the Nativity. James has fallen to the ground and supports himself on his left hand, while raising his right and his head towards Christ.

The general iconographical format of the scene, the poses, and the disciples' gestures reflect the iconography of this subject as seen in the art of the twelfth century (Millet 1916, pp. 216-31. Hadermann-Misguich 1975, pp. 142-7). Specifically, James's and, particularly, Peter's poses are common in the painting of the second half of the twelfth century (Demus 1949, fig. 19b. Hadermann-Misguich 1975, figs. 66-7. Mouriki 1990, figs. 27-8), while the aloof John's is more unusual and is mentioned by Nicholas Mesarites in his description of the mosaics in the Church of the Holy Apostles in Constantinople (PG 132, 1023-5). Again, late Comnenian trends are reflected in the unusual portrayal of Moses as an elderly, bearded man, as he is in the Churches of the Hagioi Anargyroi in Kastoria (ca. 1180) and St George in Kurbinovo on the Yugoslav side of Lake Prespa (1192; Hadermann-Misguich 1975, p. 146, figs. 67-8). Lastly, the complex rocky landscape is reminiscent of the landscape in the Kastoria Transfiguration.