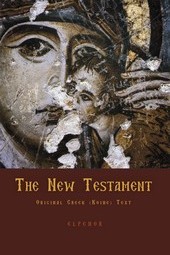 In the lower part of the scene stands the Virgin in an attitude of supplication. She is flanked by two angels clad in white, holding sceptres and pointing towards the ascending Christ. On either side of this central group are the disciples in two groups, led by Peter on the right and Paul on the left. Their heads and hands are lifted in alarm and amazement. In the upper part of the scene sits Christ in glory, being borne heavenward by two angels. A rocky landscape with olive trees in the background denotes the site of the Ascension, the Mount of Olives.

Iconographically and artistically, this scene of the Ascension alludes to works of the late fifteenth-century Cretan School, in which a type found in Palaeologan painting lived on and crystallised into its final form. Thus, both in its general composition and in its details, the Stavronikita icon has links with Andreas Ritzos's icon of the Ascension in Tokyo (Chatzidakis 1977, pl. 201), the icon of the Ascension in the Hellenic Institute in Venice, which is attributed to Andreas Ritzos (Chatzidaki 1993, nos. 13, 13α), and other Cretan icons of the same period in the Byzantine Museum in Athens, the Victoria and Albert Museum in London, in Sarajevo, and elsewhere (Eikones 1993, no. 205. Byzantium 1994, no. 235. Chatzidakis 1977, pl. 202).

This writer believes, then, that in his version of the Ascension, both in the icon from the Dodekaorton and in the fresco in the katholikon of Stavronikita Monastery (Chatzidakis 1986 (1), fig. 102), Theophanis adopts an iconographical type which was a familiar feature of the art of the fifteenth-century Cretan School, particularly the painting of Andreas Ritzos, and which became especially popular in post-Byzantine painting (Millet 1927, pl. 232.2. Chatzidakis 1962, figs. 44, 77. Chatzidakis 1969-70, fig. 43).