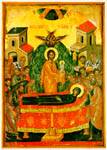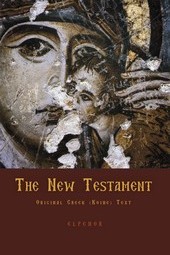 The scene is dominated by a bed with a red gold-embroidered cover, upon which lies the Virgin with her arms crossed. A candle in a holder burns in front of the bed. Behind the bed stands Christ in majestic contrapposto, holding the Virgin's soul in the form of a swaddled infant. He is surrounded by a mandorla, within which the four grief-stricken angels flanking him are rendered in monochrome. At the top of the mandorla is a seraph, and in the upper part of the icon the gates of heaven have opened to reveal two monochrome angels preparing to receive the Virgin's soul. On either side of the deathbed are the Apostles, in two dense groups, their poses, gestures, and facial expressions discreetly reflecting their sorrow at the Virgin's Dormition. St Peter is at the head of the group on the right, swinging a censer; St Paul leads the group on the left, paying homage. The scene is supplemented by three hierarchs - St Dionysios the Areopagite, St James the brother of Christ, and St Timothy or St Hierotheos - two of them holding open codices. In the background three women lament. The scene is completed by two buildings, between which, on the gold ground of the icon, is the inscription: 'The Koimesis of the Mother of God'.

In the Stavronikita icon, Theophanis adopts a spare, tight, balanced format, which entered the fifteenth-century Cretan School by way of the Palaeologan tradition (Underwood 1966, 2, fig. 185). With regard to both its iconography and its composition, the Stavronikita icon is a simple version - apart from Christ's pose - of an iconographical type developed by Andreas Ritzos and his circle. This is apparent in the icon of the Koimesis in the Pushkin Museum in Moscow (Vocotopoulos 1995, no. 155), the icon of the Koimesis in the Hellenic Institute in Venice (Chatzidaki 1993, no. 14), and the scene of the Koimesis in Nikolaos Ritzos's icon in Sarajevo (Chatzidakis 1977, pl. 202), among others.

This iconographical format, which Theophanis also adopted in the katholika of Anapafsas Monastery (1527) and Stavronikita (Chatzidakis 1969-70, fig. 5. Chatzidakis 1986 (1), fig. 14) was particularly widespread in the post-Byzantine art of the sixteenth and seventeenth centuries (Vocotopoulos 1990, no. 53. Chatzidakis 1962, no. 130, pl. 70).