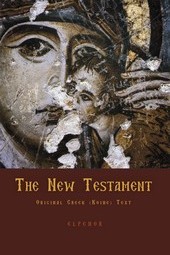 Elijah sits on some cuboid rocks in the desert, at the mouth of a dark rocky cavern that terminates in sharp peaks. His body turns to the right and his head, resting on his left hand, turns to the left towards a raven which is bringing him bread. The prophet wears an olive-green sleeved tunic and a sheepskin under a red cloak. In the bottom left corner is the signature of the major Cretan painter of the second half of the sixteenth century: 'By the hand of Michael Damaskinos' (Vocotopoulos 1990, pp. 38-42).

Damaskinos uses an iconographical format that developed in the Palaeologan period - such as that seen at Gracanica (1318-21; Todic 1989, pl. XXVI) and the Monastery of St John the Prodrome at Serres (1358-64; Xyngopoulos 1973, pl. 22) - which is slightly different, as regards the form of the landscape and the prophet's relationship to it, from the iconographical format of the Cretan School of the fifteenth, sixteenth, and seventeenth centuries (Chatzidakis 1977, nos. 29-30, pls. 25, 93. Pyles Mysteriou 1994, no. 10. Eikones, no. 129).

From an artistic point of view, Elijah's sappy and resilient face is well burnt by the desert sun. With the subtle gradations of brown underpainting, the limited areas of wheaten flesh producing an effect of patches of inner illumination, the fine supple lines that emphasise the brow, the cheekbones, the broad nose, and the wavy lines of the thick beard, the face of this venerable old prophet seems almost carved in relief.

This technique of the rendering of the flesh, which revives painting manners of the Cretan School in the second half of the sixteenth century and avoids Damaskinos's usual practice of naturalistically rendering anatomical details, such as veins (Vocotopoulos 1990, p. 40), is also seen in other works of his, such as the icons of St Antony in the Byzantine Museum in Athens (Weitzmann et al. 1982, p. 313), St Antony on Corfu (Vocotopoulos 1990, no. 24), and St Symeon in the metochi of St Catherine's, Sinai, in Herakleion, Crete (Eikones, no. 111).

From a stylistic point of view, the prophet's robust body is broad and dignified, its impressive bulk revealed by the deep, heavy folds of his cloak and tunic. The rocky desert landscape, with the small, well-defined flat areas at ground level and the small sharp peaks above the cave, provides a fitting backdrop for the imposing figure of the prophet.

The monumental priestly bearing, the facial type and technical features of the venerable old figure with the profound contemplative gaze place this icon of the Prophet Elijah among those works in which Damaskinos continued the iconographical and stylistic tradition of Byzantine art in the second half of the sixteenth century.