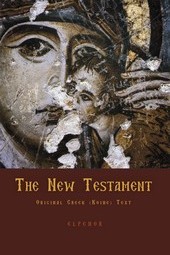 Christ stands, clad in white, on the peak of Mount Tabor, surrounded by a resplendent glory. On either side of him, on mountains shaped like arches in the background, stand Elijah and Moses. The disciples at the foot of the mountain are depicted in attitudes that reflect their dread at the sight of the theophany. The representation is completed by two supplementary scenes framed by the rocky arches, showing Christ and the disciples going up the mountain and coming down again.

In its general iconographical format and the arrangement of the figures, the Pantokrator Transfiguration is based on the miniature of the Transfiguration in Cod. Par. Gr. 1242 (1371-5; Galavaris 1995, fig. 224), with the exception of the pose of James. This Palaeologan iconographical format entered sixteenth-century painting by way of the iconographical tradition of the fifteenth-century Cretan School, and in this respect the Pantokrator icon has close iconographical links with the icon of the Transfiguration in the Benaki Museum in Athens, which dates to the second half of the fifteenth century (Chatzidaki 1983, fig. 26).

As regards sixteenth-century works, the Pantokrator icon presents a close iconographical and stylistic similarity to a wall painting and an icon of the Transfiguration in Stavronikita Monastery, both painted by Theophanis in 1545/6 (Chatzidakis 1986 (1), fig. 87). Specifically, the Pantokrator icon has the same iconographical format as the Stavronikita icon; and as regards the two supplementary scenes of the ascent and descent of Mount Tabor, as also the pose and gesture of the disciple James, it attests links with the wall paintings in the Great Lavra and Stavronikita (Millet 1927, pl. 123.1. Chatzidakis 1986 (1), fig. 87).

From the point of view of style now, this Transfiguration is a tightly organised, compact classical composition in terms of both its structure and its expressive quality. Its main features are the harmonious, symmetrical arrangement of the figures around the central axis formed by Christ; the reciprocity of the poses and movements, which obey a tranquil rhythm that holds the figures together and integrates them harmoniously in the composition; a sensitive use of colour; and an alternation of colours that conforms to the reciprocal aspect of the scene. All these features may be linked with Theophanis's synthetic skills.

In view of what has been said above, this writer believes that the close iconographical and stylistic links between the Pantokrator Transfiguration and Theophanis's painting mean that he may unreservedly be regarded as its creator. As far as its dating is concerned, the tight modelling, the clear articulation, and the compact structure of the mountain mass suggest that it pre-dates the Stavronikita icon of the Transfiguration and was painted when Theophanis was in his artistic prime.