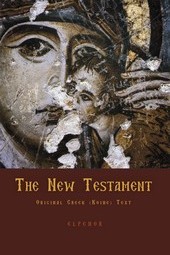 The two scenes are depicted within a low, integral frame, the interior of which is surrounded by a relief motif in the form of braided rope. It is the rope motif that divides the icon into two parts of unequal height. In the upper section is the Epitaphios; in the lower the Forty Martyrs are depicted under an ogee arch formed by the same rope motif.

On a pale pink tomb slab lies the dead Christ, alone and naked, save for a loincloth. At either end of the slab is a pair of praying angels holding hexapteryga. This type of Epitaphios, which alludes to the gold-embroidered type of liturgical/eucharistic Epitaphios (Millet 1947, pl. CLXXVI. 2) is a creation of the Palaeologan painting tradition, which lived on in the post-Byzantine period in works of the Cretan and other schools (Chatzidakis 1977, nos. 88, 106, pls. 141, 146).

In the lower section of the icon are the Forty Martyrs, condemned to spend the night on the frozen lake in Sebastia. On the left is the martyr who could no longer endure the torment and entered the warm bath, while the Roman soldier keeping watch over them prepares to take his place. Over the martyrs' heads are the forty gold crowns of their martyrdom. In the apex of the relief arch, Christ Emmanuel makes a gesture of blessing with both hands. In the corner compartments between the relief borders, the archangels Michael and Gabriel are depicted in flight against a starry sky.

The Forty Martyrs compose an archaic format of tranquil figures, without the dramatic incident of the swooning old man. Similar features are seen in icons of the Cretan School at the end of the sixteenth century (Chatzidakis 1962, no. 82, pl. 56. Chatzidakis 1977, no. 82, pl. 137).

A dedicatory inscription survives at the bottom of the icon: 'Δέησις του Δούλ(ου) του Θεου [...] Ετους ζοα(' (The supplication of the servant of the Lord [.Κ.Κ.] Year 7071 [=1563]).