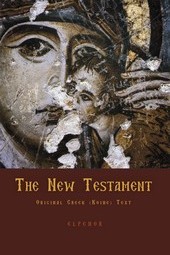 In accordance with the Apocryphal Protoevangelion of James, the Virgin is depicted as a three-year-old child being taken to the temple and presented to the high priest, accompanied by her parents, Joachim and Anne, and the daughters of Zion carrying their tapers.

The figures which compose the scene are grouped before the canopied altar and the entrance to the sanctuary. On the left, before the door of the sanctuary is Zacharias, receiving Mary. She precedes her parents, who are followed by the daughters of Zion. At the upper left edge, on a stepped base, which is roofed with a canopy and symbolises the holy of holies, sits the Virgin. She, the 'living ark', according to the Apocryphal Gospel and the hymnology of the Orthodox Church, is represented being fed by an angel.

The figures are depicted before an impressive and complex architectural backdrop, on the wall of which are two monochrome roundels containing profile busts. These are taken from the Palaeologan painting tradition, which harked back to Greek and Roman art.

Dense and tight, the composition adopts an iconographical format that developed in the middle Byzantine period. In this Chelandari variant it makes a comeback through the art of the fifteenth-century Cretan School, which continued Palaeologan models (Chatzidakis 1985, no. 60, pp. 104-5. Vocotopoulos 1990, no. 13, pp. 27-8, fig. 17. Drandakis 1990, p. 127, fig. 81. Eikones 1993, no. 204).

According to the Serbian inscription on the bottom part of the frame, this icon, one of the most important works from the Ottoman period surviving in Chelandari Monastery, was the gift of Antonios, Serbian Archbishop of Pec, in 1575.

It was painted in the second half of the sixteenth century by an anonymous Greek artist who reproduced iconographical formats and artistic manners that had been introduced to Mount Athos by the Cretan painter Theophanis (Millet 1927, pl. 130.2). This unknown painter's hand is also recognisable in other icons on Athos.