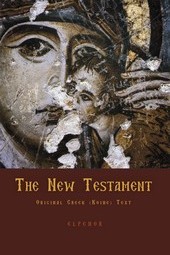 The theme of the Lamentation or Threnos, as it developed in the Palaeologan period and crystallised in a vast number of icons of the Cretan School, is rendered in a compact form here.

The focal point is the dead Christ lying on a stone slab, with his mother, seated on a low stool, embracing his shoulders. At his feet, Joseph prepares to wrap him in the shroud, while John stands bowed with sorrow behind the slab. In the background are the myrrh-bearers, their gestures and faces expressing their grief; and behind them, to the right, Nicodemus leans on the ladder. In the foreground of the scene are the basket of tools and the vessel of myrrh. Behind, on the gold ground of the icon, rises the cross with the crown of thorns. Above the arms survives the half-obliterated inscription: 'The Epitaphios Threnos'; and to the left of Nicodemus the abbreviated form of Christ's name.

The composition is dominated by reddish and golden yellow hues, together with a dark greenish-blue. The faces are modelled with dark brown underpainting and pinkish-yellow flesh, the expressions of grief accentuated by deep triangular shadows under the eyes and furrows over the eyebrows.

The dotted ornamentation of the haloes and the gold geometrical vegetal decoration of the integral frame on an alternately red and dark greenish-blue ground are regarded as features of Athonite technique in the seventeenth and eighteenth centuries (Chatzidakis 1972 (4), p. 123. Chatzidakis 1985, no. 163).

These technical characteristics, together with the anti-classical feeling that imbues the figures and distinguishes the composition from similar works by the Cretan School, as also the rather hard, stylised modelling, which recalls the 1615 wall-painting of the Lamentation in the Chapel of St John the Theologian in Dionysiou Monastery (Millet 1927, pl. 13.2), all suggest that this is an Athonite work of the first quarter of the seventeenth century. This dating is confirmed by an inscription on the back of the icon, consisting of the names 'Mihajle' and 'Dimian' in Cyrillic script and, below, the date: ζρκδ΄ (7124 = 1616).